FAQs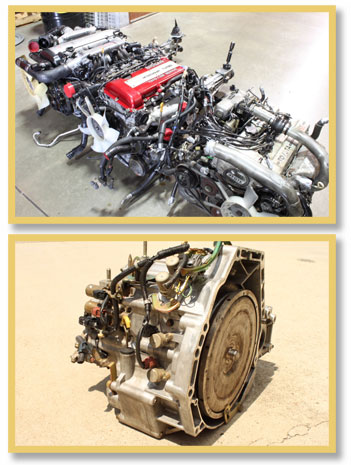 How Many Miles Do The Engines Have?
We don't know exactly how many miles each engine has; however, we have been to Japan and seen that most cars have a mileage around 50-60 thousands miles. It is very rare to see a car that has a mileage over 80,000 miles. Therefore our average mileage for each engine approximately 60,000 miles.
Why Do Japanese Engines Have Lower Mileage?
Japanese people rely mostly on public transportation such as train and bus. Taxes are higher for older vehicles and bi-annual car inspections can be costly for a person. These are some reasons as to why Japanese people do not like to keep older cars.
What Parts Are Not Included With The Engines?
All the attachments to the engines such as alternator, air compressor, power steering pump, and distributor do not come with the engines. BUT the intake, exhaust manifolds and fuel injectors do come with the engines. We do not have any warranty for all parts. Therefore, we recommend all customers to use parts from their original engines to meet U.S. emission control etc. (more details in warranty section).
Does NadAuto cover labor costs?
No, NadAuto does not cover labor costs.
What does NadAuto do to make sure that the customers are getting a good engine?
NadAuto cleans, tests, and checks the compression of every engine in the warehouse before it goes on sale.
Payment
- We do not accept credit card payments by phone. All cardholders have to be present in our office for credit card payment.
- We accept cash, cashier check, money order, certified fund and wire transfers.
- We do not accept personnel checks.